Injuries Increasing from Inflatable Bounce Houses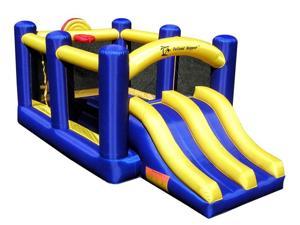 One of the things that children love to do is to jump around and play in inflatable bounce houses. However, there is a new study that says inflatable bounce houses are the source of an increasing number of injuries to children.

In fact, injuries from inflatable bounce houses are increasing at an alarming rate. Dr. Gary A. Smith is director of the Center for Injury Research and Policy at Nationwide Children's Hospital in Columbus, Ohio. He is also co-author of the study. Smith said, "If this was an infectious disease, we'd call it an epidemic and it would be on the front pages all over the country."

What the study found was that as the popularity of inflatable bounce houses increased, so have the numbers of children who have suffered injuries from them. The rate of injuries from inflatable bounce houses between 1995 and 2010 increased 15-fold, with the most rapid increase occurring during the last few years of the study.

Emergency department records

The study was published in the December issue of the journal "Pediatrics." Researchers in the study examined emergency department records from 1990 to 2010. What they estimated was that nearly 65,000 children sustained injuries during this time period from inflatable bounce houses.

The researchers in the study found that the patients on average were 7.5 years old. The most common injuries among the children were 28% fractures and 27% sprains or strains. Boys had cuts and concussions more often than girls. Of the children suffering injuries, 3% had to have observation or hospitalization.

For many years, public health officials have warned about the dangers that are associated with trampolines. However, public health officials have not paid much attention to the dangers that are associated with children jumping in inflatable bounce houses in a way like they do on a trampoline.

Smith said, "Our message is that we want children to get up off the couch and be active, but we also like to inform parents of the risks of those activities."

Most injuries minor

Dr. Richard Schwend is chair of the American Academy of Pediatrics' section on orthopedics and professor of orthopedics at the University of Missouri-Kansas City School of Medicine. He said that most of the injuries appeared to be minor.

Schwend added, "However, similar to trampolines, the potential for more severe injury is high when children are attempting stunts, or if a smaller child is being bounced by a larger child or children. I have seen cervical spine injury and paralysis when a child jumps headfirst and lands on the head."

Many of the injuries followed falls or one child falling on another child or collisions between children. Some children broke their forearms as they tried to break their falls. The locations where the injuries took place most often in the inflatable bounce houses were 44% at recreation sites and 38% at someone's home.

Smith also advised that parents should only let their children play in inflatable bounce houses if they were at least 6 years old. He said that an adult should supervise the activity at all times and only let one child go inside at a time. If that was not possible, then he recommended that the children should be about the same size and age.